Chocolate and Peanut Butter Swirl Cheesecake (Vegan Version)
Prose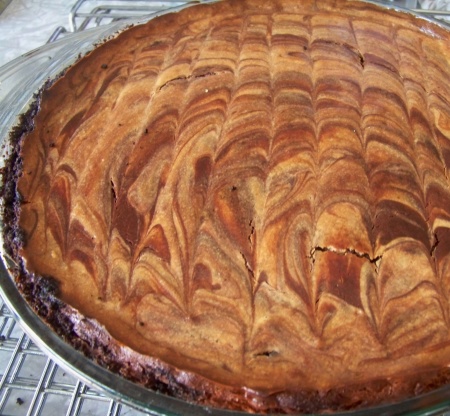 This is a truly decadent version of an omni taste sensation. I was so happy that this recipe tasted so good because I have been burnt before :) Well worth the effort!

Top Review by Prose
This was by far the best birthday cake I've ever made for my husband. I made it as written, except that I used gluten-free oreo-style cookies. Thank you for posting this, as it is really hard to find vegan desserts that are both decadent and easily made gluten-free. It was a real hit with party guests who did not have special diets; they would have never known it was dairy-free if I hadn't told them!
To make the crust, grease a pie pan.
In a large bowl, stir together the cookie crumbs and the melted butter. Using your fingertips, firmly and evenly press the mixture into the bottom and sides of the pie plate.
For the Cheescake.
Preheat the oven to 180°C
Drain the tofu and put it and the cream cheese into your food processor. Blend until smooth.
Add the sugar and milk, and process again until sugar is dissolved, about 3 minutes. Add the remaining ingredients (except chocolate, peanut butter and crust) and process until completely smooth, about 3 more minutes.
Melt the chocolate in a microwave safe container to a point that it is soft enough to blend with the other ingredients (be careful, it's easy to burn chocolate in the microwave). You can also melt it on the stove in a double boiler.
Pour half of your blended cream mixture into a seperate bowl and then fold in the chocolate until it is fully incorporated. Pour the chocolate mixture into the pie crust.
Add the peanut butter to your remaining cream mixture and blend again until completely smooth. You may want to taste test at this point to make sure that the peanut butter flavor is strong enough. If not, add one tablespoon of peanut butter, blend, then taste test again. Continue in this way until you are satisfied with the flavor.
Swirl the peanut butter mixture into the pie crust on top of the chocolate mixture layer and bake in the middle of the oven for about 55 minutes (do not allow to brown). Filling will be slightly jiggly, not completely set until chilled.
Remove from oven and allow to cool. Refrigerate until completely chilled (the longer, the better).