Chocolate and Chipotle Black Bean Chilli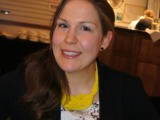 Put a twist on old school chilli with a little bit of chocolate
Make and share this Chocolate and Chipotle Black Bean Chilli recipe from Food.com.
Directions
Fry the onion and garlic on a medium heat for about 5 minutes until soft, then add the red pepper, chili powder, paprika and chipotle paste (add more if you want it hotter, keep tasting it and add accordingly) mix well and cook for a further few minutes.
Add the tinned tomatoes and season well.
Turn the heat up until simmering and add the black beans and chocolate and stir in well.
Cook for around 10 minutes or until the sauce has thickened.
Serve topped with spring onions with tortilla chips and dips, or rice.