Chocolate and Cherries Granola
Redsie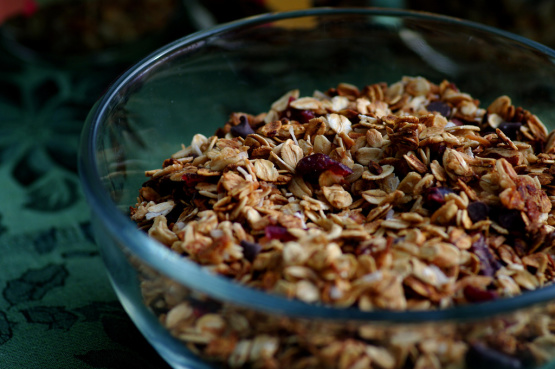 I was in the mood for a more gourmet granola than I usually make, and this is what I came up with.

This was SO good! I am happy to have finally found a go-to recipe for granola. I think I might try adding almond extract in addition to the vanilla next time. It doesn't need it, but I think it might be good. I baked it at 325 in my convection and will drop it to 300 next time because I like mine lighter. Awesome recipe, thanks Marg!
Preheat oven to 325 degrees.
In a large mixing bowl, stir together the oats, pecans, coconut, wheat germ, brown sugar and salt.
Combine the the oil, honey, water and vanilla. Add to oat mixture and toss until well combined.
Spread the mixture evenly on a cookie sheet.
Bake for 30-40 minutes or until lightly browned, stirring every 10 minutes to keep the mixture from sticking.
Allow to cool.
Stir in the cherries and chocolate chips.
Store in an air tight container.