Chocolate Amaretto Cheesecake
MandiC14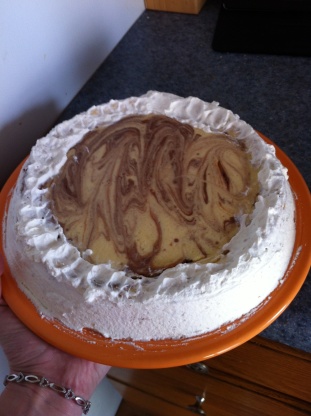 I first had it in a restaurant here in town...lovely!

This is simply amazing. My eyes might have rolled into the back of my head with every bite! Next time I might set aside a bit more for the chocolate part, but it was really perfect the way it was. I just love chocolate! But I also think the time is correct. I took the suggestion of another review and lowered the temperature to 275 instead of 225 and I had to take it out a little early. So next time I will follow the temperature directions exactly. This recipe is definitely a keeper. LOVE LOVE LOVE!!!!
For crust: Mix together in small bowl. Press mixture evenly onto bottom of greased 9" springform pan.
For Cheesecake: In mixing bowl, combine cream cheese, 2/3 cup sugar, sour cream, and cornstarch. Add eggs, one at a time, beating well after each. Beat in vanilla extract. Remove 3/4 cup of mixture to separate bowl and stir in cocoa powder and 3 tablespoons sugar. Set aside. Stir amaretto and almond extract into the remaining mixture.
Pour half the amaretto mixture over the crust. Spoon half of the cocoa mixture over the amaretto mixture. Pour remaining amaretto mixture over the cocoa mixture. Top with remaining cocoa mixture. Using a knife and without disturbing the crust, swirl the blade through the batter to create the marble effect.
Bake at 425 F for 10 minutes. Lower temperature to 225 F and bake for 1 hour or till the center no longer looks wet or shiny. Remove the cake from the over and run a knife around the inside edge of the pan. Chill, uncovered, overnight.
For Topping: In small bowl beat whipping cream and amaretto with mixer until stiff peaks form. Pipe whipped cream around the edge of cheesecake. Garnish with chocolate covered almonds.
Chill till serving time.