Chocolate-Almond Coffee Frappe
Baby Kato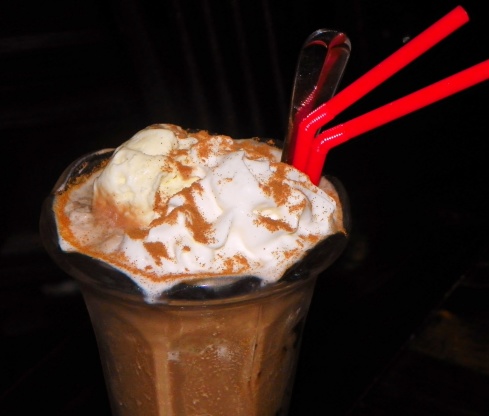 I don't know where I got this recipe, I think I picked it up for my teens to try (I don't like cold coffee). It seems like a good alternative to the high priced drinks at our local coffee stands. When making coffee in the morning, refrigerate the leftovers to make this later in the day.

Oh my gosh this is so good! Used my Keurig for a cup of coffee or I would have been drinking this all day. LOL Whirled everything together added a straw and I was enjoying a very good coffee drink and saving money. Made for Culinary Quest 2015.
1⁄4 cup black coffee (room temperature)
1⁄4 cup milk (plus a little more, if needed, for smooth blending)

1

cup chocolate ice cream

1

teaspoon almond extract

1

cup ice, crushed

2

tablespoons chocolate syrup
cinnamon, for dusting
Place black coffee, milk, ice cream, almond extract and crushed ice in blender jar. Add sugar or sugar substitute only if desired,(The taste is quite sweet without it!)
With blender lid securely closed, pulse blender until mixture is smooth. If blades get stuck, add a little more milk.
Pour 1 Tablespoon of chocolate syrup into the bottom of each glass. (This makes the drink look and taste even more delectable.)
Divide the coffee frappe between your glasses and dust with cinnamon. Serve immediately!
Variation: Use Vanilla Ice Cream with Vanilla extract.
*Milk options: whole milk, skim milk, soy milk, etc.
Optional Extras:.
Extra scoops of ice cream, for garnish.
Whipped cream, for topping.
For adults an added Tbls or two of Godiva Liqueur, Amaretto, or Kaluha would be tasty.