Chocolate Almond Bacon Bars
sheepdoc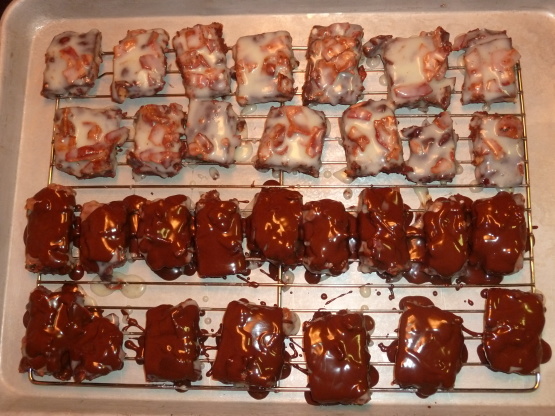 From the in-flight magazine on Southwest Airlines. I used Ghiradelli 60% chocolate chips, Nestle white chips, and nestle semi-sweet chips. The oil in the coating seems weird and is hard to mix in but the end result was right for coating. The white chips were a mistake, didn't firm up. Because the white is runny, these have to stay in the freezer. I also used raw almonds, chopped, and toasted in the pan I cooked the bacon in. Kind of weird but definitely man-candy. Everything is better with bacon!

I made this recipe after finding the recipe while on a southwest air flight. Chocolate and bacon lovers should love this recipe. It is very creamy, covers the 3 chocolate flavours and melts in your mouth.

I found the recipe to being a little time consuming with the steps involved and having to set the layers in the freezer. Definitely use parchment paper or plastic! I fried the bacon as directed and put it in a mini food processor to get the bacon finely chopped. NEXT time I will buy a large bag of real bacon bits and just fry them up a little. I found if you left the bars out of the freezer they got very messy, so I cut them in small pieces and just left them in the freezer until serving them in little paper candy holders. They are rich so you only need small pieces.

They are soooo worth the trouble!
Heat 1 cup heavy cream almost to boiling.
Melt dark chocolate in double boiler or microwave.
Mix melted chocolate and cream. Stir in almonds.
Pour mixture onto greased cookie sheet and freeze until firm.
Fry bacon until crisp and chop finely.
Heat 1/2 cup cream almost to boiling.
Melt white chocolate in double boiler or microwave.
Combine cream, melted chocolate, and bacon.
Spread over dark chocolate layer.
Place in freezer one hour.
Cut bars to desired size and freeze.
Melt semi-sweet chocolate in double boiler or microwave.
Whisk in vegetable oil.
Arrange bars on wire rack over pan and pour melted chocolate over to cover.
Freeze before coating other side.
Store in refrigerator.