Janie P.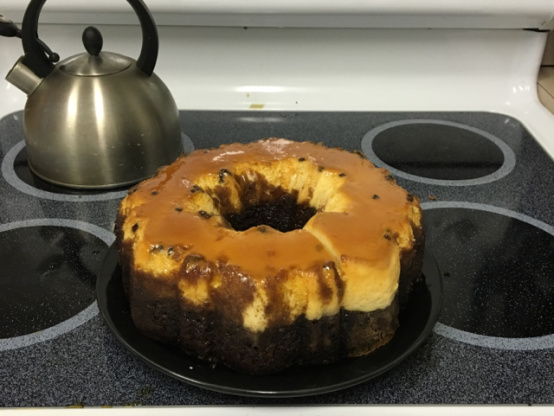 My favorite dessert. Half chocolate cake, half flan, this is just delicious and amazing when you cook it.

This is delicious and so easy. I made this for a work party and it was devoured. I also made it for a New Year;s Day Mexican fiesta and every guest asked for the recipe.
Cake: Preheat oven to 350 degrees. Prepare cake batter according to instructions on package. Do not bake, set aside.
Flan: In a blender, mix eggs, condensed milk, cream cheese and vanilla til smooth.
On a small pan over the stove top pour the 1/2 cup of brown sugar til it melts to make the caramel topping.
On a greased Bundt pan pour the caramel to cover the bottom of the pan following pour prepared cake batter then on top of cake batter add flan mixture. It might seem everything is mixing together but once baked both will cook separately and it'll look beautiful. Bake 45 minutes or until toothpick comes out clean. Remove and cool. Place on a serving dish best when served cold.