flower7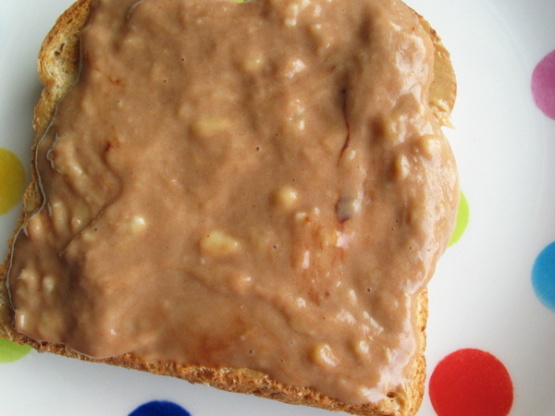 Adapted from "Company's Coming Kid's Healthy Lunches"

This was good but I liked it more before it was heated - after heating the peanut butter flavor seemed to disappear. I used this as a spread for toast and after spreading a little more peanut butter on the toast, it really added the little bit of extra saltiness that this needed for my taste. Thanks for the recipe!
Mash the banana in a small bowl. Spoon the peanut butter and chips on top of it, microwave for 45 seconds. Stir until well blended. Serve hot, as a dip for fruit, or chilled, as a spread for sandwiches or wraps or crackers. Keeps for up to a week, covered, in the fridge.
Variations: Try other nut butters (soy, cashew, almond etc.) or other flavours of chips (butterscotch, vanilla etc.) to vary the recipe.