Sweet Creamy and Delicious! Enjoy!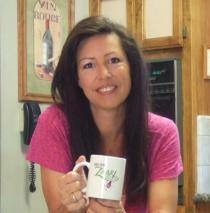 This was definitely dessert in a glass! Had it last night while the boys had their shake ;) I used Kahlua and half and half. Used my Magic Bullet to whip it up and it was a nice creamy delicious drink. Great flavor combo. Thanks for sharing this one, I will make it again for sure! Cheers ~V
3⁄4 ounce chocolate syrup
1⁄4 ounce Tia Maria or 1⁄4 ounce Kahlua
1⁄2 cup crushed ice
1 1⁄2-2 ounces sweet cream or 1 1⁄2-2 ounces milk

1

ounce white rum
3⁄4 ounce coconut cream

For Garnish

chocolate shavings (optional)
Mix in a shaker or blender.
Serve in a highball glass and sprinkle with chocolate shavings.