Pamela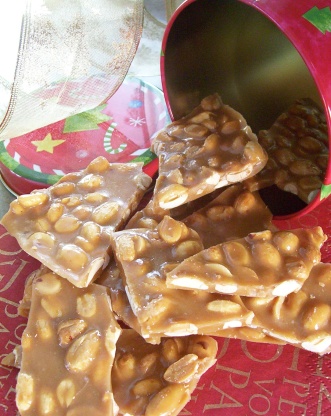 Very easy recipe. If I can make it, anyone can. I made this for my nut loving MIL, who thought it was great especially because I used pecans.

Top Review by Pamela
Yum Yum! I made this recipe and it was easy and delicious! I used only peanuts but I'd like to try it with mixed nuts too. I turned my heat way down and cooked it for the full five minutes and I had perfect results. Thanks Melanie for this great Christmas treat!
Combine butter, sugar and corn syrop in a large saucepan.
Using a wooden spoon, stir and cook over medium heat until smooth and bubbly.
Cook, covered for one minute.
Add nuts, increase heat to medium-high.
Cook uncovered, stirring constantly until syrop is a warm golden color (about 5 minutes).
Line a cookie sheet with foil and lightly butter.
Pour mixture onto pan, spreading as thin as possible.
Cool until hard (approximately 30 minutes).
Peel from foil and break into bite-sized pieces.