ImPat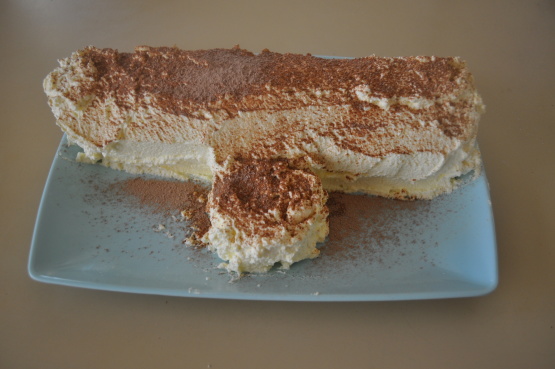 My family adore this cake, the hardest part of making it, is leaving in the fridge for so long before serving! This can either be formed into a log or with a little more cream and extra biscuits it can be formed into a ring. Arnotts make Choc Ripple Biscuits.

Top Review by ImPat
Made this for the DS to take to his music recreation group which was really enjoyed. I decorated the drinking chocolate rather than using the peppermint bars and my serving platter was a little short to take all 27 biscuits, so stacked 3 for a mini stand up ripple cake. Thank you Tisme, made for Edition 9 - Make My Recipe.
300

ml cream

1

teaspoon caster sugar

250

g chocolate ripple biscuits

35

g Peppermint Crisp candy bars, crushed
Add sugar and a drop of vanilla essence to the cream and whip until very stiff.
Join biscuits together by standing a biscuit on its side and sandwich with the next biscuit using a generous spread of cream. Continue until all the biscuits have been used and resemble a log.
Cover the log/ring thickly and entirely with the remaining cream. Place in refrigerator for at least 6 hours to set.
Before serving, decorate with crushed pepermint crisp.
When serving, cut cake at a slight angle to ensure alternate layers of chocolate biscuit and cream are in each slice.