Prep 20 mins
Cook 18 mins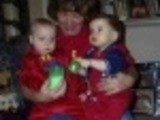 When I was a young bride an older lady from Texas used to make this wonderful cake for me and DH. She was a great cook. It has remained a favorite of ours. Soooo good!
Directions
In a saucepan melt the first three items.
In a large bowl mix the flour, sugar, salt and soda, then add the next 3 ingrdients (vanilla, buttermilk, eggs).
Pour the mixture of butter and cocoa over the mixture in the bowl and mix with an electric mixer at medium speed until smooth.
Bake at 375 degrees for 18 to 20 minutes on a greased and floured 15x10x1" baking pan.
ICING Heat the butter, cocoa and buttermilk until well mixed- do not boil.
Add the box of powdered sugar and beat with a mixer until well blended.
Add the cup of pecans, folding in with a spoon.
Pour over cool cake.
Most Helpful
this was average. I wasn't that impressed. Maybe I just don't appreciate sheet cakes, I don't know. It was kind of blan, not as choclaty as I thought it would be. The icing I liked though.
Fantastic little cake!! Sooo easy to put together and bake, and the end result is a chocolaty, light-as-a-feather delight! We really enjoyed! Thanks so much for sharing this nifty recipe, Trisha ... I'll be making this one again! Laudee

This is very similar to a recipe I have made for years. There are only minor differences, like the buttermilk in the frosting. That adds a nice touch. This is a rich chocolate cake that is sure to satisfy any chocoholic craving. You are so right about butter..."use the real stuff" when baking.