berry271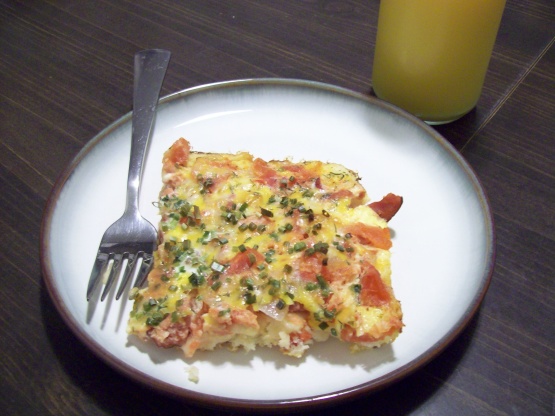 This has good flavor and we enjoy it for breakfast. I recently used a savory cheddar-garlic biscuit mix that I had on hand for the crust, and I thought that was a nice addition. My only critique would be that it's not very hearty. I would say it really only serves 6 as a main dish, as it is rather on the thin side for a breakfast casserole. I think it would be nice on a buffet, with some pastries and fruit, and then you could probably get 10-12 servings out of it.
In a skillet, saute onion in butter until tender.
Stir in ham and tomato; set aside.
In a medium bowl, combine bisquit mix and water; mix well.
Press onto the bottom and 1/2 inch up sides of a greased 13x9x2 baking dish.
Spread ham mixture over the crust; sprinkle with cheese.
In a bowl, beat the eggs, milk, dill, salt and pepper; pour over cheese.
Sprinkle with chives.
Bake, uncovered, at 350 degrees for 25 to 30 minutes or until knife is inserted near the center comes out clean.