(Chive) Goat Cheese Mashed Potatoes
lazyme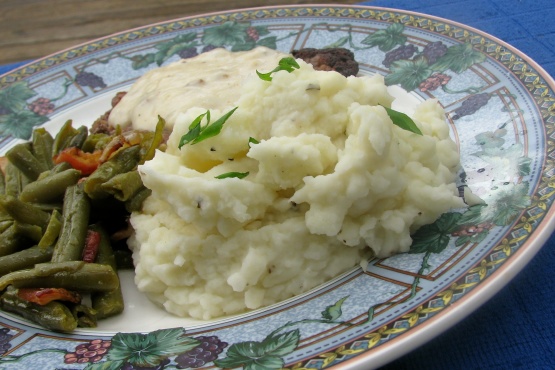 Recipe comes from the December 2005 edition of Canadian Living Magazine.
Peel potatoes and cut in half crosswise.
In a large pot of boiling salted water, cover and cook potatoes and garlic until tender, 25-30 minutes.
Drain and return to pot; dry over low heat, shaking pan, about 1 minute.
Press through ricer - you could mash but it will not be as smooth or creamy.
Optional - warm goat cheese, and sour cream in the microwave on low for 2 minutes.
Mix sour cream, goat cheese, butter, salt and pepper into potatoes and stir smooth.
Add chives if using.
Put into a casserole dish or 13x9 baking dish.
If making ahead - up to 2 days - cool and refrigerate.
Cover and bake at 400F for 30 minutes, or microwave on high for 10-12 minutes. If cold add 10 minutes to baking time in the oven.