Kim127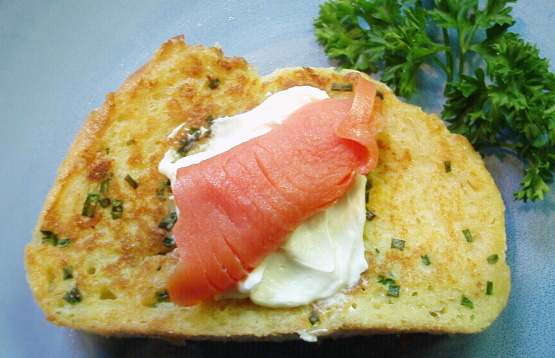 Adapted from a recipe in Sally Schneider's cookbook A New Way to Cook. She used less butter than I do--2 tsps--but I have not been able to make that amount of butter last long enough without the toast starting to burn on or stick. Warning: These are NOT sweet. Can be used as breakfast, snacks or appetizers. I don't think this recipe would work that well with dried chives, but can't say for sure.

Top Review by Kim127
This was a really nice change for breakfast. Actually any form of breakfast is a nice change for us, lol. Really loved the flavor of the chives with this. I did have to douple the egg mixture as 2 pieces of bread soaked up the first batch. I used nice thick slices of French bread and we served ours with cream cheese and smoked salmon. Thanks!
With a fork, beat together the eggs through salt.
Use fork's tines to pierce the bread in several places so it will absorb the batter.
Place bread slices in batter and let steep about 1 minute on each side.
Melt half the butter over medium heat in a large non-stick skillet and tilt to coat pan.
Add bread slices to pan and cook, 2-3 minutes to a side, adding, melting and spreading the other half of the butter when you turn the slices. Toast should be deep golden brown.
Serve at once, by itself.
If you wish, spread with cream cheese or sour cream flavored w/ a little lime zest and top with smoked salmon.
You can also serve with just butter or cut into smaller pieces and serve as simple hors d'oeuvres.