Chips Ahoy Banana Muffins
Kim D.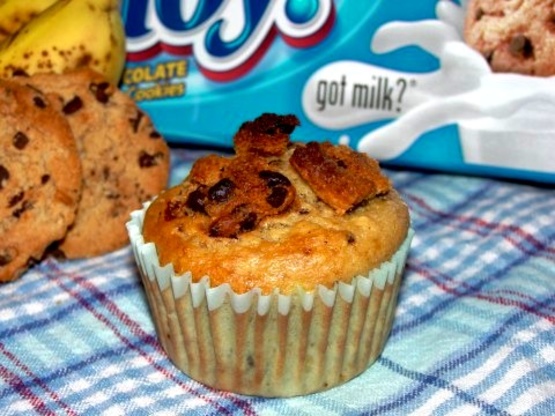 When I first saw this recipe, I knew I had to try it! It sounded strange, but ended up being really delicious! Buttermilk can be used in place of milk. Delicious!

The Albertsons I shop at had a deal that if you spend $50 you get two big bags of chocolate chip cookies free. So when I saw this recipe I had to make it! The muffins turn out super moist and 20 minutes was just perfect for me. I did end up filling all 12 muffin cups pretty high, but they turned out perfect size in the end. You don't necessarily taste the cookies in the muffin, but they are REALLY great on top!! Great texture. Also I put about 75% of the cookies in the batter and only about 25% on top otherwise they would have been totally overflowing and wouldn't have stuck to the muffins. My family just loves these!
Set aside 1/2 cup cookie crumbs for the topping.
Mash bananas with fork in large bowl.
Add egg, milk and oil; mix well.
Stir in flour, sugar and baking powder just until moistened.
Stir in remaining crushed cookies.
Spoon mixture evenly into 12 medium muffin cups sprayed with cooking spray.
Sprinkle each muffin with reserved crushed cookies.
Bake at 400°F for 20 minutes or until toothpick inserted in centers come out clean.