Chipotles En Adobo/ Chipotles Chili in Adobo Sauce
2Bleu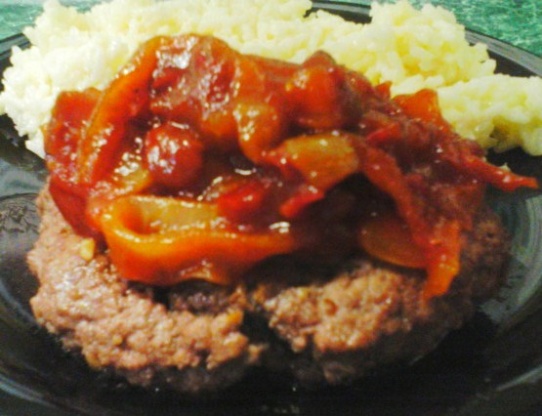 Smokey chipotle chiles in a rich tomato sauce spiced with vinegar,garlic and onion and lightly sweetened with dark brown sugar. Refrigerator in an airtight container. To make a spicy sauce blend cooked, seeded chipotle in a blender till smooth. You can add back some seeds for heat and texture.

This sauce rocks! I blend it up and put it in a squeeze bottle. It is now a staple in my fridge. I put it on lots of things, tonight it is going to be mixed with a little sour cream and used as a pizza sauce for my pulled pork (Recipe #426274) pizza. It improves with age, after a couple of weeks in the fridge it mellows as the vinegar punch diminishes and the flavors combine. a+ ******
Place all ingredients in a heavy bottom pan, cover, and cook over very low heat for 1 to 1-1/2 hours, until the chiles are very soft and the liquid has reduced down to 1 cup.
Alternate Method:.
Place ingredients in a dutch oven and bake at 325 degrees for 1 1/2 hours till peppers are tender,and sauce is thick.
You can also can this into a half pint jar and water bath it for 12 minutes at sea level. (See canning chart for your altitude).