Rita1652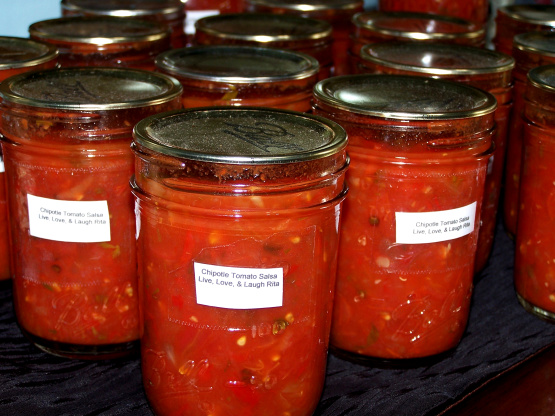 Savor your homegrown tomatoes all year, by making this smokey, garlic filled salsa. Do use the food processor to shred the veggies to cut chopping time down. If you have the time roast your garlic then add it to the salsa to double the pleasure! ;)

Mmm, Rita, this sauce is AMAZING!!! It tastes spicy, without being too hot to handle and there also is tartness from the vinegar. The tomatoes, bell peppers and onion go so well together and the herbs add a wonderful distinct background flavour. All in all this is a perfect combination of flavours and just what you need to have in your pantry. It will kick up any meal and really make it special. I had it with rice today and plan on using it in many casseroles and pasta dishes to come. THANK YOU SO MUCH for sharing this gem from your kitchen with me! It will be treasured!
Place all in a large pot bringing to a boil then reduce and simmer for 20 minutes.
Fill into hot sterile jars leaving 1/2 inch headspace removing any air bubbles.
Being careful not to leave any salsa on the rims.
Wipe jar rims with a clean, damp paper towel. Put on lids and screw on metal bands.
Process for 10 minutes in a hot water bath.
Label and store in a dark place. Use with 1 year.