Chipotle Tomato Jam With a Hint of Basil
Rita1652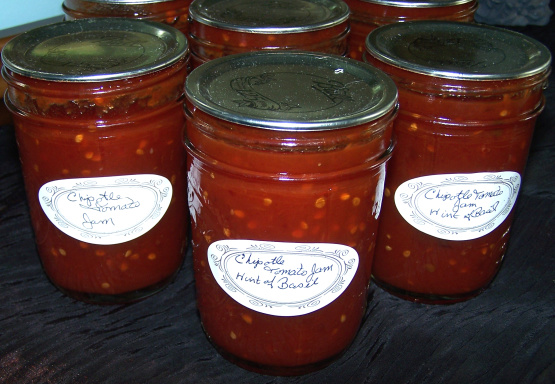 Top your next burger, meatloaf glaze ribs or chicken with this! Depending on how much water your tomatoes have will determine how long to cook.
Blanch tomatoes into boiling water for about 1 minute until the skins crack slightly. Peel, remove stem ends, and any tough parts while squeezing with hands to break up.
Place in saucepan. Bring to a boil. Stirring often. Boil uncovered, about 30 minutes until liquid is reduced. If needed 10 minutes into cooking use an immersion hand blender to break up large pieces of tomato.
Add lemon juice, sugar, vinegar, chipotles and salt. Stir as it returns to a boil. Boil about 1-2 hours, stirring often, until it thickens.
Add basil last 5 minutes.
Fill hot sterilized half pint jars to within 1/4 inch of top try to place 1 basil leaf in each jar.
Wipe rims clean.
Top with sterilized metal lids on jars and screw metal bands on securely. Process in a boiling water bath for 5 minutes.