Chipotle Shrimp With Corn Cakes (Zwt Usa Southwest)
PaulaG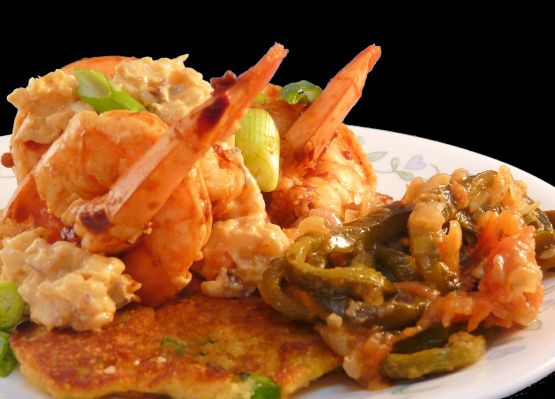 From Bernard Clayton's Cooking Across America, posted for ZWT III. This looks like some work, but sounds lovely.
Top Review by PaulaG
This recipe is actually 3 recipes in 1 which makes for a very long ingredients list. The recipe was adjusted somewhat and at times was difficult to follow. My shrimp were 21 to 25 count per pound and I allowed 6 per serving. The liquid ingredients for the corn cakes were blended in the blender container along with the corn to be pureed. My cookie scoop made the perfect measure for the corn cakes. The Ranchero Sauce was made 24 hours in advance and refrigerated until ready to serve. It was heated at serving time. For the sauce, the tomatoes and all the chili were cut in half before placing under the broiler which allowed the skins to be easily slipped before processing and it definitely needed the addition of water. The shrimp were cooked in the boiling water but I don't see why they couldn't be cooked in a smaller amount of liquid just as easy. The end result was a truly delicious meal served with a side salad.
Prepare ranchero sauce (makes 4 cups - need about 1 cup for recipe):.
lightly blacken tomatoes and serranos in a skillet or under the broiler, about 4-5 minutes.
chop together and set aside.
saute onion and garlic in oil in a saucepan over low heat till onions are soft but not brown, about 10 minutes.
combine all ingredients in the saucepan (reserve a few strips of julienned poblano for garnish). cook, partially covered, over low heat for 20-30 minutes, adding water if necessary.
Remove cilantro.
Garnish with a few strips of julienned poblanos.
Refrigerate till ready to use.
prepare corn cakes:.
place the dry ingredients in a bowl and mix together.
in a large bowl, whisk the buttermilk and butter together and then whisk in the egg.
gradually add the dry ingredients to the liquid and whisk till thoroughly incorporated.
puree 1/2 cup of the corn and fold it into the batter along with the remaining whole kernels and the scallions.
Add a little buttermilk if necessary to thin the batter.
using an ungreased pan over medium heat, ladle 1 T of the corn cake better and form 3-inch cakes.
Cook till golden brown, about 30 seconds each side.
stack and keep warm till served.
Shrimp:.
In a large pan, bring the water to a boil, add the lemon juice, peppercorns and salt.
Add the shrimp and cook for 45 seconds to 1 minute.
Drain, cook, peel and devein.
Prepare chipotle butter - roughly puree together the butter, 1/2 lb of the peeled shrimp, and 1 1/2 T of chipotle puree.
Set aside at room temperature.
Just before serving, toss together the remaining pound of cooked shrimp with remaining 3 T of chipotle puree and heat through on a griddle, about 2 minutes.
To serve:.
place 3 corn cakes on each plate, place 3 shrimp on each cake and spread chipotle butter liberally over shrimp.
sprinkle the chopped scallions over shrimp.
Serve ranchero sauce at the side of the corn cakes.