3 Reviews
Amazing taste! I couldn't find the chipotle seasoning at my grocer, so bought a dollar can of chipotles in sauce, and just used a tbsp (hot!) of the sauce for marinade. Omitted the oil. Used store bought tostadas and this was just outstanding. The slaw with sour cream really helps with the heat from the shrimp. This will be added to our rotation for sure!!
Delicious! I made one serving and it was easy to downsize it. I loved the tang of the lime in this. Not sure about the radish but it was OK. This is one of those dishes that isn't easy to eat. That must be the reason I never order tostadas in the restaurant. I use the coleslaw mix and instead of the oil I fried in cooking spray. The chipotle powder gave the shrimp and nice touch of flavor and heat. Thanks for posting. Made for "Top Favorites of 2009: tag game. :)

5/5/09 - This recipe made it into my book#266453. I made this when I saw it in the magazine. This is absolutely fantastic and pretty easy to make!!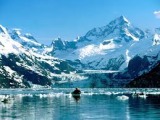 Chipotle Shrimp Tostadas