vrvrvr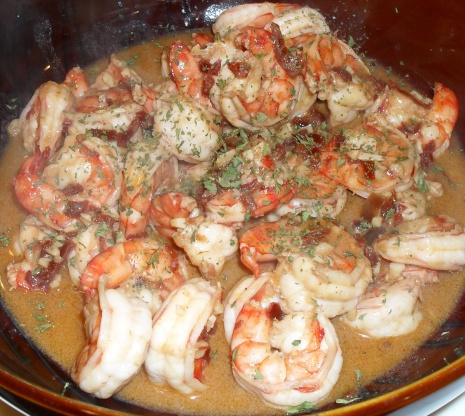 I received this recipe in my email. I do not like cooking with so much butter - I think it can easily be reduced.

Top Review by vrvrvr
This was a fabulous shrimp dish!! I always remove the seeds from the chipotle peppers, otherwsie my 8 year old would not be able to eat. Even so, this dish retained great spiciness with the garlic. I used white wine instead of red. And I used all the butter - 1/4 c. split into 5 generous servings is fine with me! This is an excellent recipe and I will certainly serve it again! Yum!
Bring rice and water to a boil in a medium saucepan.
Reduce heat to low, cover, and cook 20 minutes, or until rice is tender and water is absorbed. (Or cook as package directs).
Meanwhile melt the butter in a skillet over medium heat.
Stir in the garlic, and cook about 30 seconds before adding wine, Worcestershire sauce, chipotle, and salt.
Mix in the shrimp, and cook 5 minutes, or until the shrimp are pink and opaque.
Serve over the cooked rice.