Chipotle Scalloped Sweet Potatoes
loof751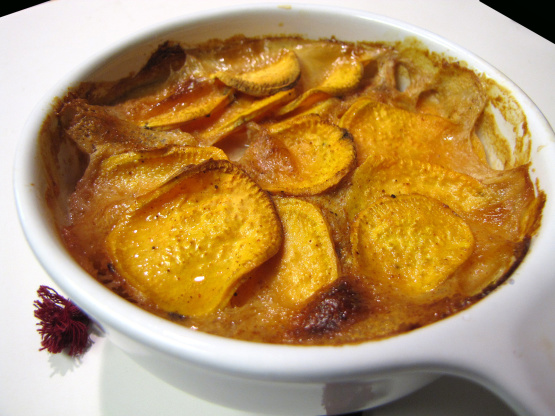 Delicious baked sweet potatoes with a kick, inspired by the one and only Bobby Flay. I have made these for dinenr and everybody LOVED them.
Preheat the oven to 350 degrees Fahrenheit.
Whisk together the heavy cream and chipotle puree until well combined.
Season the sweet potatoes with salt and pepper. Layer the sweet potatoes in a 6x8–inch baking pan. Drizzle with 5 tablespoons of the chipotle-cream mixture. Repeat with the remaining sweet potatoes and cream mixture to form 3 to 4 layers. Cover with foil paper and bake for 30 minutes. Remove the foil and bake for an additional 45 minutes.