Chipotle Salsa Negra (Dark Chipotle Salsa)
loof751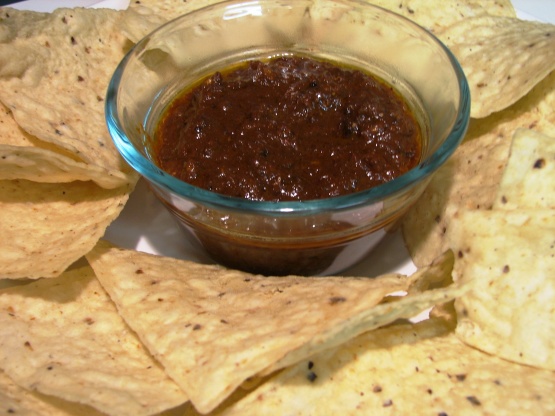 This recipe comes from a Saveur special issue in 2005. I'm going to post a series of recipes from this publication for safekeeping. Chipotles are my favorite chile, so this one sounds good!

This is wonderful, amazing stuff! I occassionally use it as a dip, but it's a bit intense. This stuff shines as an ingredient, though. I add it to commercial salsa to add a wonderful smoky depth. It makes great chipotle ketchup when mixed with the ordinary red stuff. It adds a little something extra to guacamole, chile, refried beans, or anything that could benefit from a bit of smoky spice. It keeps practically forever in the fridge and freezes well too. I've frozen it in ice cube trays to have perfect little portions on hand for dropping into beans or stews. Try this one. You won't regret it.
Rinse chiles.
Heat half of the oil in a cast-iron skillet over medium heat. Add chiles and garlic and cook, stirring, about 5 minutes (chiles will be puffed and garlic browned). Set garlic aside.
Transfer chiles to a bowl and cover with hot water. Let soak until soft (about 15 minutes). Drain and remove stems, seeds and veins.
Purée chiles, garlic and 2 cups water (I use the chile-soaking water).
Heat the other 3 tablespoons of oil in the same skillet over medium-high heat. When the oil is hot, add the pureed salsa and cook, stirring occasionally, until thickened, about 10 minutes. Season to taste with salt.