Chipotle Roast for Tacos & Sandwiches
CandyTX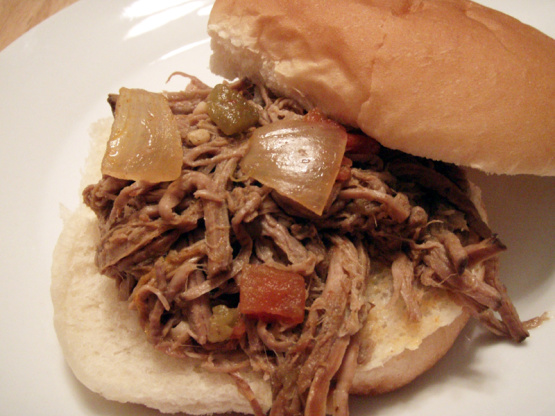 Crock pot recipe. Beware - this is spicy, but is an excellent shredded beef for tacos, sandwiches or enchiladas!

I've been trying various chipotle meat recipes for a while. This is my favorite so far! Easy as all get out, spicy and tasty! I put the trimmed roast into the crockpot, then combined all the other ingredients into my blender. A quick spin later, I poured the liquified goodness all over the roast and turned on the crock. Dinner tonight was very well received.
Place chuck roast in large crock pot and sprinkle with the salt and pepper, chili powder and cumin.
Add the remaining ingredients and simmer on high for 5 hours or on low for 7-8 hours.
Shred the meat with a fork and simmer on high for additional 10-15 minutes.
Serve in enchiladas, tacos or on crusty rolls with the juice for dipping.