Chipotle Pork With Strawberry-Avocado Salsa
teresas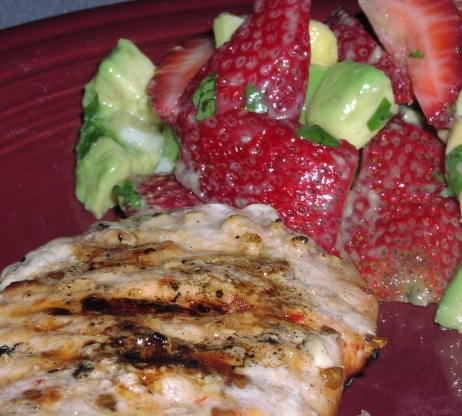 This was printed in our local newspaper. Prep time includes marinating. I made it the other night and it was wonderful. I did need to grill the pork for longer, but the tenderloins I had were kind of thick. I also used a little more lime juice in the "marinade", which I found to be more like a wet-rub than a marinade.

This shocked us! We weren't really sure how all these different flavors would taste together. We had a pleasant surprise. You get a subtle touch of heat with the pork and the salsa has a nice blast of refreshing flavors. I hated to throw out the marinate. I could see heating it and serving it on top of the pork. Overall a great recipe. Thanks JenniferK2 for posting.
For pork, combine all but the salt in a large plastic zipper bag. Marinate in refrigerator, turning the bag occasionally, for 2 hours.
Remove pork and discard marinade; sprinkle pork evenly with salt.
Grill pork over indirect heat for about 20 minutes, or until internal temperature reaches 155°. Let stand 10 minutes. Slice crosswise.
For salsa, combine all ingredients in a medium bowl and toss gently. Serve immediately with the sliced pork.