Susie D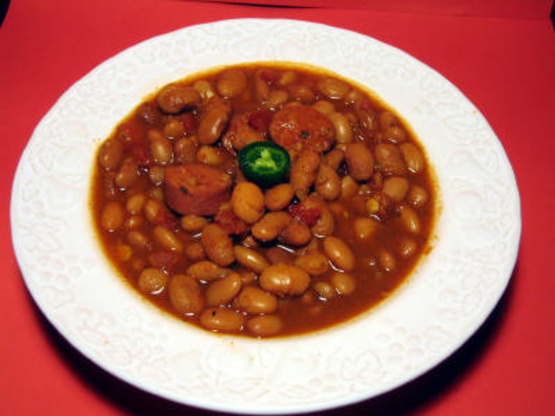 This is great served over corn bread on a cold winter day. If you can't find a ham hock, use a couple of slices of bacon. Also make sure that your chipotle pepper is straight from the can. I used one that had been in the refrigerator for months and it didn't add much flavor to things.

I made this yesterday for lunch with a friend and really enjoyed it. I did add a little Mexican oregano, pickled jalapeno juice and garnished with fresh chopped cilantro leaves. I used bacon because that is what I had on hand. I think this would be great with black beans also. The leftover beans are cooking in my crockpot right now in a batch of chili. Thanks for a easy tasty recipe!
Put beans in a medium sauce pan and add enough water to cover the beans. Cover with a lid and bring to a boil. Simmer for 10 minutes.
Add the remaining ingredients, cover and bring to a boil. Remove and set aside chipotle pepper. Lower heat and simmer until beans are tender, stirring frequently and adding more water when needed to prevent scorching. Salt to taste and return chipotle pepper to pot if a spicier stew is desired. Serve hot in soup bowls.