Rita1652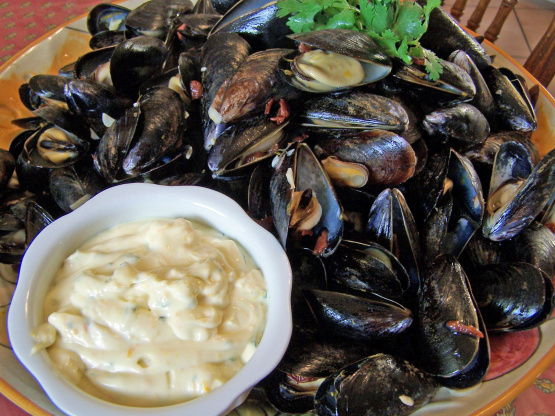 I came across this recipe and thought it sounded like a delicious summer appetizer when you're lucky enough to have mussels. Recipe source: Coyote Cafe

This was so so good! The mussles I bought couldn`t get fresher if I dug them myself! It came in 5 pound bags so we made a meal out of them. I sauteed the garlic in the oil then added all the ingredients using only 1 1/2 cups of hot water not 4 cups. I served with sliced, oven toasted Italian bread to absorb all the wonderful juices which I did not cook down. I made my own dip from store bought mayonnaise. Ellie, this was GREAT!
To prepare mussels, wash well and remove beard with paring knife and then place mussels in a large pot with garlic, orange zest, chipotle and water and bring to a boil, cover and let steam for 4-5 minutes. Remove pan from heat and let sit for 5 minutes. Discard any mussels that don't open. Remove mussels and keep covered.
Reduce liquid by half and add oil and orange juice.
Divide mussels on the half shell (discarding other shell) evenly between soup plates and add broth. Garnish with orange mayonnaise and sprigs of cilantro.
To make orange mayonnaise: beat egg yolk until light lemon color and then transfer to blender. Blend yolk while adding oil, a tiny bit at a time, pouring through cover, on low until all the oil is used. Put on high speed until combined. Add remaining ingredients (orange zest - cilantro) and blend. Let stand one hour before serving.