Chipotle Mexican Grill Chicken Tortilla Soup
kolibri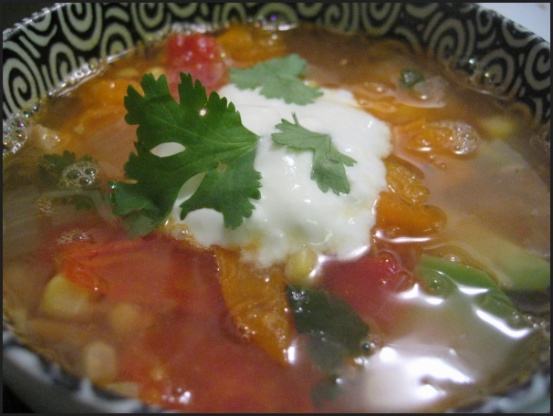 Chipotle Mexican Grill Tortilla Soup Source: Chef Staci Raymond, Chipotle Mexican Grill, Phoenix, Arizona

Very different soup - the lime makes is a bit tangy, and the chipotle makes it slightly spicy. Together it's a wonderful mix of flavours - would be easily "fancy" enough to serve to guests, but warming and unfussy to serve on a cold winter's night. Excellent find Katie!
1⁄4 cup olive oil
1 1⁄2 cups sweet corn (fresh)

1

onion, diced

6

cups chicken broth

2

chicken breasts, grilled and sliced

3

roma tomatoes, peeled, seeded and diced

2

small avocados, peeled, seeded and cubed

2

limes, juiced
salt and pepper
1⁄2 lb fried corn tortilla strips

1

lime, cut into 6 wedges
1⁄2 cup sour cream
1⁄2 cup cilantro, chopped, divided
Heat olive oil in a large stockpot or saucepan over medium heat. Add corn and onion; cook until lightly caramelized. Add chicken broth and chipotle chile; let simmer 20 minutes over low heat. Add the tomatoes, avocado, lime juice, 1/4 cup cilantro. Season with salt and pepper. Remove and discard the chipotle chile.
Place one-sixth of the tortilla strips in the center of six soup bowls; ladle soup around the crisps. Garnish with remaining cilantro and sour cream. Serve with a wedge of lime.
This is the exact recipe -- I prefer to put avacado in just before serving -- so it is not warmed.