Nif_H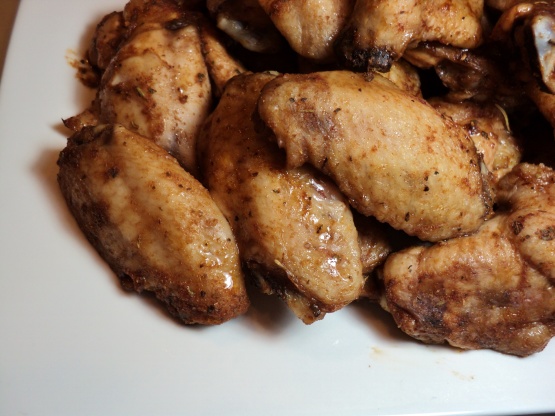 A smoky wing with medium heat. This way of preparing the wings is lower fat than deep fried and not as messy if you marinade them overnight and don't coat them in sauce again before serving. Also, if you are not able to find Tabasco Chipotle you can use any hot sauce with a little liquid smoke added. Toss them in a crock pot after they bake and they get extra tender and flavorful.

Top Review by Nif_H
These wings were great with a big salad for dinner tonight. I really liked the chipotle flavour and probably could have used more. The only thing different from the recipe is that I had to cook the wings for quite a bit longer. Made for Best of 2011. Thanks Scott! :)
Remove any excess skin and fat from the wings.
Bake 25 minutes, or until fully cooked, at 350 on a rack to allow grease to drip off.
Cool completely.
Mix all other ingredients.
Coat wings or toss in sauce and marinade at least 2 hours (overnight is best).
Bake 15 minutes at 350 on a rack.
Serve as they are, out of the oven or coat them again in sauce.