Chipotle Honey Dipping Sauce (For Shrimp Cocktail)
2Bleu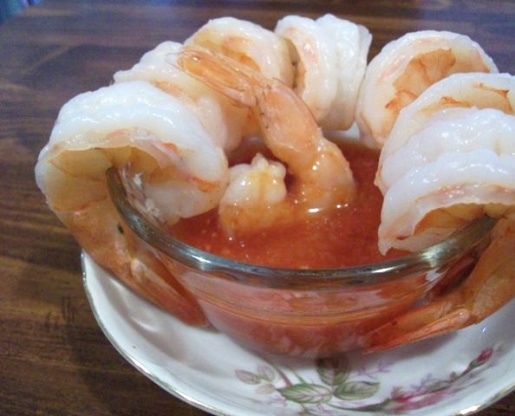 This is a nice twist to use for shrimp cocktail or brushed on grilled shrimp k-bobs. I'm sure there are many other uses as well. Enjoy. :)

Really nice blend of flavors! I omitted the salt and had a little problem with my blender (it broke and started leading everywhere!) so I wasn't able to make it as smooth as specified. We had already grilled the shrimp, so decided to eat it chunky anyway. It was delicious! Thanks for sharing, and thank you, Bird, for being such a fabulous host for Favorites of '08 tag!
In a small saucepan, bring chiles, tomato, water, onion, garlic and salt to a boil and reduce to a simmer. Cook, slowly, covered for 15 minutes.
Puree mixture in a blender (or use an immulsifier) until smooth. Stir in the honey and vinegar. Serve at room temperature as a dipping sauce with shrimp.