Chipotle Grilled Chicken With Avocado Salsa
CarolAT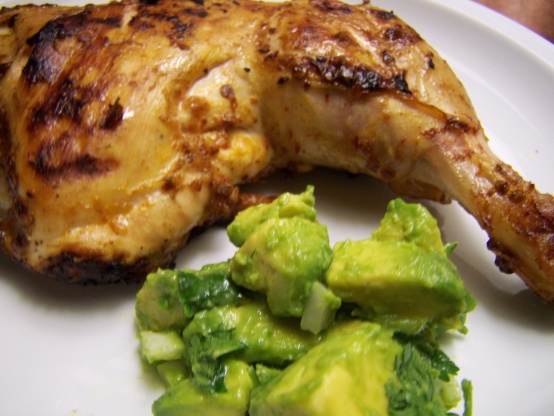 This chicken gets a spicy kick from the chipotles in adobo. The avocado salsa cools it down . You can either grill the chicken or roast it in the oven. Please plan ahead as the meat needs to marinate between 2 hours to overnight. From Baja! Cooking on the Edge.

Fantastic chicken recipe. This chicken does have a little kick due to the chipotle chiles in adobo sauce, but it gives the chicken a great smokey flavor. We grilled the chicken, and it came out so juicy and flavorful. And talk about great avocado salsa. Wow, it is so easy to make and tastes so good. This recipe will be repeated many times during the upcoming summer months. Thanks for posting this great recipe. Made for ZWT5 Tex-Mex/Southwest region.
In a food processor, puree the chipotles, garlic, oil, and salt. Wipe the chickens with paper towels. Thoroughly coat the pieces on all sides with a layer of the chipotle paste.
Place in a nonreative baking dish or in resealable bags and refrigerate for 2 hours, or as long as overnight.
Heat the grill to medium. With the lid open, grill the chicken on both sides until well marked but not burned- about 7 minutes per side. Turn the heat to low, close the lid, and cook the chicken, skin side up, until an instant-read thermometer inserted in the thickest part of the thigh reads 165 degrees. (Alternatively, bake at 350 degrees for approximately 30 to 40 minutes.).
Serve with tortillas and salsa.
Avocado Salsa: Place the avocados in a bowl. Sprinkle with the salt an dlime juice; mix gently with the onion and cilantro (don't mash; it should look diced).
Note: this salsa should be served within 3 hours. To help it keep its color, press a piece of plastic wrap on the surface of the avocado and refrigerate until needed.