Chipotle Grill Inspired Tomatillo-Green Chili Salsa
hamstahs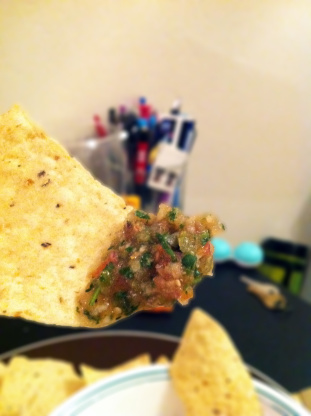 From the moment I first tasted this type at Chipotle Grill I was hooked on this tangy salsa. It's not always easy for me to get to the restaurant and to be honest, they don't give you a very generous portion with your chips. I looked all over the internet to find a recipe for this one, but couldn't find it so I made my own. I created this recipe based on the ingredients list on their website, plus a few of my own touches but the result is very very close. Adjust the hot peppers if more or less heat is desired.

Great recipe! It was very simple to make and tastes really good. The only thing missing is it needs some more heat. Maybe adding a hotter pepper than jalapeno would fix that or more jalapeno. Overall, I would recommend if you are looking for a good green salsa recipe.
Combine the above ingredients into a food processor. Pulse until desired consistency is reached. I gave it about 4 pulses to reach a small sized chunk, perfect for scooping with chips.