Chipotle Crusted Pork Tenderloins (Can Sub Chops)
Boomette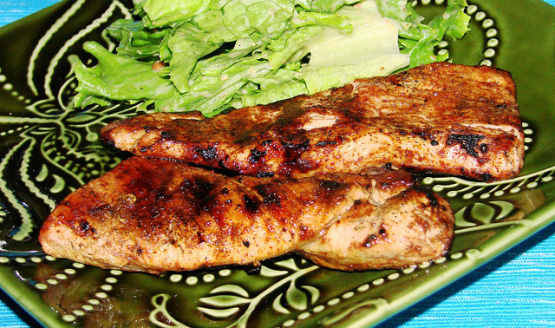 Very spicy with 2 tablespoons chipotle chili powder, decrease if you like less heat. If using chops, increase the rub amount due to larger exposed meat areas.
It was my first time doing a recipe with dry chipotle powder. Wow it's good and spicy. I reduced the quantity just a little bit. I'm glad there was a little bit of sweetness from the brown sugar. Me and DH loved this rub so much. It goes well on pork. Thanks GailAnn :) Made for Holiday tag game
1

teaspoon onion powder

1

teaspoon garlic powder

2

tablespoons dried chipotle powder (decrease for less heat)
1 1⁄2 teaspoons salt

4

tablespoons brown sugar

2

(3/4 lb) pork tenderloin (or pork chop equivalent)
Preheat grill for medium-high heat.
In a large resealable plastic bag, combine the onion powder, garlic powder, chipotle chili powder, salt and brown sugar. Place tenderloins (or chops) in a bag and shake, coating meat evenly. Refrigerate for 10 to 15 minutes.
Lightly oil grill grate (don't leave out this step) and arrange on grate. Cook for 20 minutes, turning meat every 5 minutes. Remove from grill, let stand for 5 to 10 minutes before slicing.