Bergy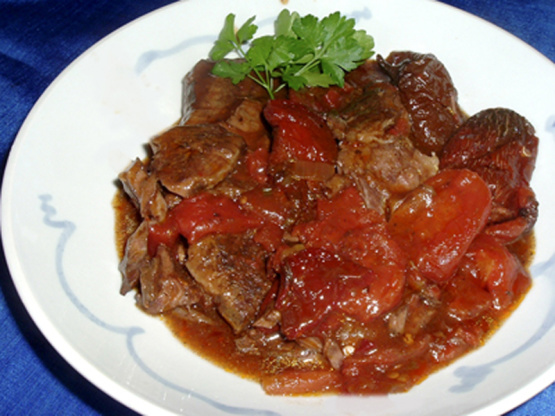 This recipe is so simple I am almost embarrassed to post it but it was so tasty that I felt I wanted to share it with you. I used boneless strips of Maui ribs but you may use any thin sliced beef. I love hot (spicy) food so I caution you that if you use the whole tin of chipotles it will scream 5 alarm fire. If you don't use the whole tin freeze the remaining. Start off with two chipotles if you like medium hot.

Simple (yet delicious) crockpot recipes like this one are a life saver on busy days! This did not dissapoint, and I'm sure it would work just as well with chicken or pork. I used a can of plain diced tomatoes instead of the Mexican style tomatoes because I don't care for the sugar that is often in the Mexican and Italian varieties of canned tomatoes. Since I didn't use the Mexican tomatoes, I added a small chopped onion, some garlic, and some seasoning (chili powder, cumin, and Mexican organo). Also, since I wanted the kids to be able to eat it, I only went with two of the chipotle peppers and froze the rest. Since I was making this to go with some leftover chili pepper pasta, I did thicken the sauce with the cornstarch. I also stirred in some sour cream and fresh cilantro at the very end. So very good and super simple. Can't beat that!
Place half the peppers and tomatoes on the bottom of your crock pot; add meat.
Top with remaining peppers & tomatoes.
Turn to low for 6 hours.
If you with to thicken the sauce, mix cornstarch with a bit of water and add to crock pot. Stir; turn to high for the last 15 minutes.
Serve over your favorite pasta.