Chipotle-Cream Cheese Crescent Rolls
teresas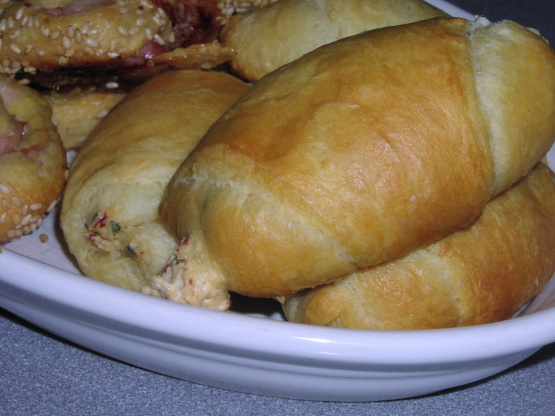 I'm super addicted to anything chipotle, so I guess I shouldn't be surprised at myself for filling crescent rolls with it! I just had these for lunch and really enjoyed them. I hope you do, too!

These are very nice! My only "issue" was that even though I put a Tbsp (or more) in each crescent, I still had enough left for another 8 crescents (though I'm not complaining too much! :) ) I used light cream cheese, parsley instead of cilantro, and chives for the onions. As I was rolling the crescents, I found that tucking the edges in seemed like it would help keep the filling inside (and none of them leaked, which I was afraid of!) These would make a great appetizer, though it's hard to eat just one (I just ate four as the main part of my dinner LOL) Thanks for sharing!
Mix together all ingredients for the filling.
Spoon approximately one tablespoon of filling in the center of the larger side of a crescent roll, and spread out just a bit. Roll up crescent roll beginning with large end, and press any seams together to keep in filling. Repeat with remaining crescent rolls.
Bake at 375 degrees Farenheit for 11-13 minutes, or until rolls are browned.
NOTE: A bit of cooked and chopped chicken added to the filling would be great! I had a tiny bit of filling left which I scrambled with eggs for breakfast -- you could also use two cans of crescent rolls and a bit less filling, or make a quesadilla for lunch tomorrow!