Chipotle, Crab and Egg -Tiny Appetizers
Bergy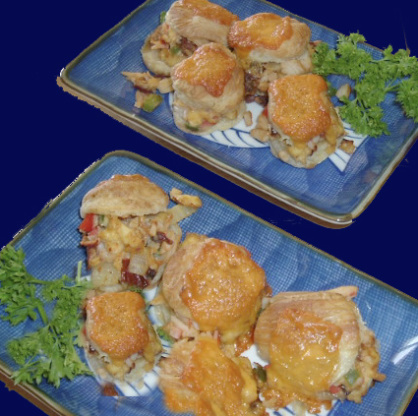 You will need a dozen of Tiny Appetizer Biscuits Tiny Appetizer Biscuits. They freeze well so you will have extra handy to make this again because I think you will. The recipe was created from what I had on hand for my Sunday appetizer and it worked. It was easier for me because I had some of the egg mixture left over from this mornings brunch (Migas Migas by Miss Annie) but it will only take you a minute to put this all together. If you have the luxery of having real crab I think it would be wonderful - I can only find canned. Use less Chipotle peppers if you are not into hot! The recipe may be doubled
Chop the Chipotle peppers, set aside.
Mix your egg, Sweet pepper, Onion. garlic powder, salt & pepper & crab.
Stir fry on a hot skillet until set. mix in the chipotle peppers.
Slice open your tiny biscuits and put a portion of the crab/egg mixture on each.
Top with their hats and place a small piece of cheese on top.
Heat in 375F oven for 10-12 minutes or until the cheese is bubbly and the appies are warm through.
Enjoy.