daisy M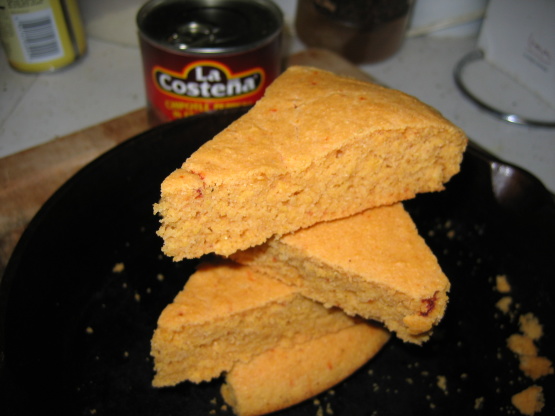 I found this recipe on the internet. I haven't tried it yet, but it sounds pretty good.

I love chipotles and was so excited to try this cornbread recipe. Very good and spicy. I served it on New Year's Day with black-eyed peas and turnip greens. Had a dense but tender texture. Slathered on some real butter. Yes mam, gets a thumbs up from my family.
Preheat oven to 450°, allowing the cast iron skillet to heat up with it.
In the mixing bowl, combine the cornmeal, flour, sugar, salt, and baking powder.
Fold in the egg, buttermilk, milk, oil, and chipotles.
Spray cooking spray on cast iron skillet and pour in the batter.
Bake for 25 minutes.
When cornbread is taken out of the oven, immediately run a knife around the edges and flip the skillet over onto a plate.
Serve with butter.