Chipotle Chicken Skewers With Creamy Cilantro Dipping Sauce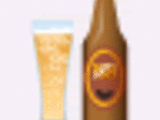 This is from Cook's Illustrated (America's Test Kitchen) The Best Light Recipe. It's shockingly good. The sauce is also fantastic on fish tacos. EDIT: THIS RECIPE IS AN APPETIZER. It will not magically turn 2lbs of chicken into a full meal for 10 people. You may serve it as a main course, but please adjust your expectations or multiply the measurements. You will need thirty 6- or 8-inch bamboo (or wooden) skewers for this recipe. The cooking time will depend on the strength and type of your broiler. Under-the-oven drawer-style broilers tend to take a few minutes longer than in-oven-style broilers. A small clove of minced garlic (about 1/2 teaspoon) can be substituted for the garlic powder in the sauce, if desired.
Directions
FOR THE CHICKEN: Slice the chicken breasts across the grain into 1/2-inch-thick strips (you should have about 30 strips). In a large bowl, toss the chicken with the brown sugar, cilantro, chipotle, adobo sauce, salt, chili powder, garlic powder, and pepper. Cover tightly with plastic wrap and refrigerate until the flavors meld, about 30 minutes. (The chicken, covered, can be refrigerated for up to 1 day before cooking.).
FOR THE DIPPING SAUCE: In a bowl, stir all the ingredients together. Cover with plastic wrap and let stand at room temperature until the flavors meld, about 30 minutes. (The dipping sauce can be covered and refrigerated for up to 2 days. Season with additional lime juice, salt, and pepper to taste before serving.).
Meanwhile, adjust an oven rack to the top position and heat the broiler. Line a broiler pan bottom with foil and top with a slotted broiler pan top; spray the broiler pan top with nonstick cooking spray. Weave each piece of chicken onto individual bamboo skewers; lay half of the skewers on the broiler pan top and cover the skewer ends with foil, making sure not to cover the chicken. Broil until the meat is lightly browned and cooked through, 5 to 8 minutes, flipping the skewers over halfway through. Transfer the skewers to a serving platter and serve immediately with half the dipping sauce. Repeat, broiling the remaining skewers and serving with the remaining dipping sauce.