loof751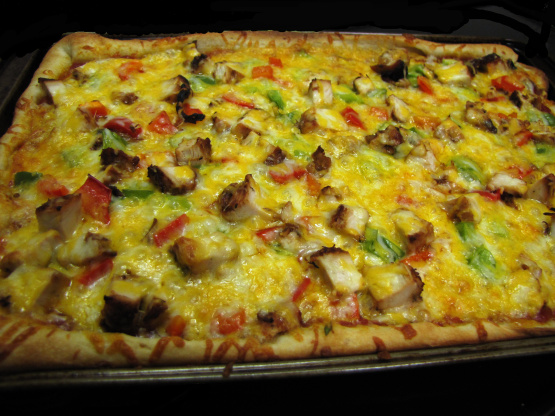 I got this off of a free recipe card from the grocery store. It's a recipe by Pillsbury.

Yummmy....
I used homemade dough, hot salsa and some pan fried seasoned chicken strips.
This was delicious.....absolutely loved the smokey chipotle running through the salsa.
Next time I would use red onion though...the taste is a little more subtle, allowing the other flavours to shine a little more, and the colour would look fab with the red and green peppers.
A simple and very tasty pizza...big thumbs up from us!!
Heat oven to 400 degrees. Spray or grease a 15 X 10 inch or larger dark or nonstick cookie sheet. Unroll dough on cookie sheet; starting at center, press dow into a 15 X 10 inch rectangle.
In small bowl, mix salsa and chipotle chile, spread to within 1/2 inch of edges of dough.
Top with chicken strips, onion, and peppers. Sprinkle with cheese.
Bake 10 to 12 minutes or until crust is golden brown and cheese is melted.