Rita1652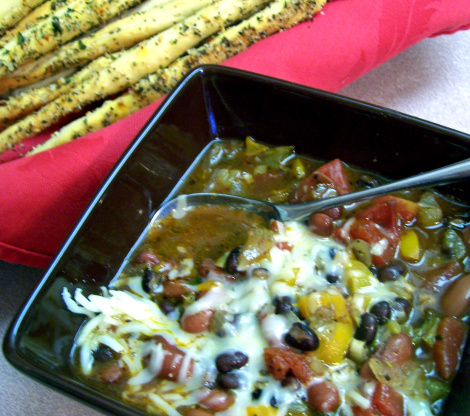 One of my favorites. I sometimes use four cans of black beans in place of the dried, and all chicken broth without the water. I also like to puree the whole batch with my hand blender, but that's just personal preference. This is a very forgiving soup, so just do what you like!

Very good soup - I did use four cans of black beans which made for a very quick meal. Added some left over chopped cooked chicken for a nice meal on a cold winter night. Thanks for posting.
To prepare soup, sort and wash beans; place in a large Dutch oven. Cover with water to 2 inches above beans; bring to a boil, and cook 2 minutes. Remove from heat; cover and let stand 1 hour. Drain.
Heat oil in a large Dutch oven over medium-high heat. Add onion; sauté 2 minutes or until tender. Add garlic; sauté 1 minute. Add beans, chipotle chile, 2 cups water, oregano, cumin, and broth; bring to a boil. Cover, reduce heat, and simmer 3 hours or until beans are soft.
Place 1 cup of soup in a blender; process until smooth. Return to pan. Stir in pepper and tomatoes; cook until thoroughly heated.
Ladle soup into each of 4 bowls; top with yogurt and cheese.