Chipotle-Barbecued Shrimp with Goat Cheese Cream
Ms B.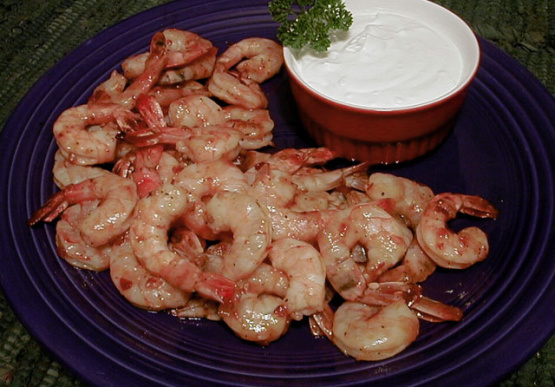 Adapted from "Southwest Grill"

Top Review by troyh
Don't underestimate the heat from the chipotles. Ouch! I love spicy food, but the goat cheese cream was a requirement to cool my tongue off. But overall, it had a nice lingering spiciness. I also found that the cream was too thick. Sue L may be right, that more buttermilk is needed, but I'm far from a chef, so I really don't know.
In a blender, combine the chilies, adobo, lime, juice, orange juice, tequila, ketchup, sugar, molasses, salt and pepper.
In a shallow nonreactive dish, combine the chipotle mixture and the shrimp.
Cover and let stand at room temperature, stirring once or twice, for 30 minutes.
Combine the rest of the ingredients to make the goat cheese cream.
Light the grill to medium hot.
Position the rack to about 6 inches above the heat source.
Lift the shrimp from the marinade and reserve the liquid.
Put them on 4 large metal skewers and lay them on the rack after oiling it.
Baste with some of the marinade, cover and grill, turning 3 times and basting at each turn with some of the marinade, for a total of 6 minutes.
The shrimp should be pink, curled and moist.
Slide the shrimp off their skewers and onto a platter or individual appetizer plates.
Drizzle with the goat cheese cream and serve immediately.