Ms B.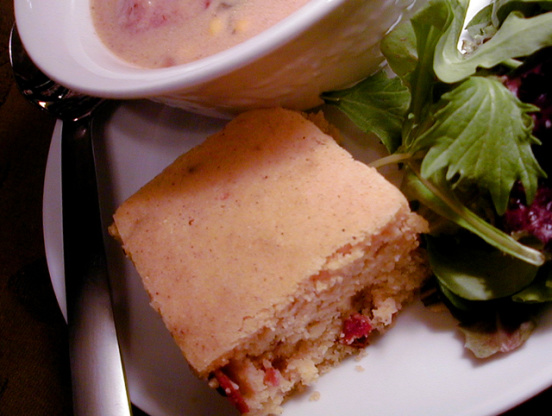 In this recipe adapted from Cooking Light, bacon and chipotle chiles give corn bread double the smokiness to offset the buttermilk's tang. Would make a delicious addition to a corn bread stuffing!

Top Review by Ms B.
The bacon and chipotles are an excellent addition to corn bread. I finely chopped the chilies, but might consider blending them even finer if serving the bread to those not fond of the heat. This was a nice side for some soup and a salad on a cold, rainy night.
Preheat oven to 425 degrees F; spray an 8-inch square baking pan with cooking spray.
In a large bowl, combine the flour, cornmeal, sugar, baking powder, salt, cumin, and baking soda.
In another bowl, whisk together the buttermilk, egg, and chiles, then gradually whisk in the melted butter.
Stir the buttermilk mixture into the flour mixture, stirring just until moist.
Fold in the cooked and crumbled bacon.
Pour the batter into the prepared baking pan and bake at 425 degrees F until a wooden skewer or toothpick inserted in center comes out clean, about 18 minutes.
Transfer pan from oven to a wire rack and allow to cool for 10 minutes.