Chipa Guazú- Corn Pancake from Paraguay
awalde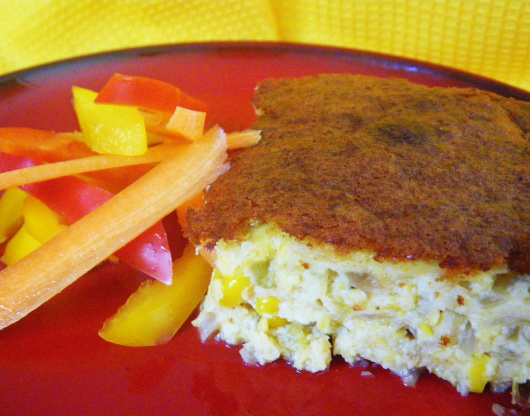 The paraguay corn pie chipa guazu is a popular american side dish that is popular in to the international cuisine too. Chipa Guazú is very much like the Sopa Paraguaya, only it is creamier. And the Chipa Guazú has lots of onions in it. Adapted for ZWT7 from: http://www.foodofsouthamerica.com/chipa-guazu-recipe.htm

I was fully expecting to like this dish, but I was not expecting to love it so much that I'd have to hide the leftovers from myself just to stop short of eating the entire thing! The onions become deliciously sweet from the long cooking time and the cream cheese, milk and corn make it so wonderfully creamy. Melt-in-your-mouth loveliness. Made for Newest Zaar Tag.
3

sliced onions

4

whole corn cobs (out of which you take the grains) or 500 -700 g frozen corn (one pound or some more)

500

g cream cheese (it can be mozzarella cheese, one pound)

6

eggs, well beaten
1 1⁄2 cups milk
salt and pepper (to taste)
1⁄2 cup corn oil
In a pan, put the oil, when it is hot, add the onions, let them fry for some minutes, then add the milk, and let it cook some eight minutes and transfer in a big bowl.
Grate the corn grains or blend it only shortly. They still should have some texture.
Add the cheese in the bowl (cut into very thin slices), then the beaten eggs, the corn , the salt and the pepper and beat thoroughly. This dough is rather liquid. Check the salt to taste.
Put this mixture into a greased pan, and take it to a 180º C (350°F) pre heated oven, until it is golden on top (will take abaout 45 minutes).
Let this stand for five minutes and cut in pieces before serving it.
Note: I used a 25-35 cm pan. Cooking time is depending from the size of your mold!