Anonymous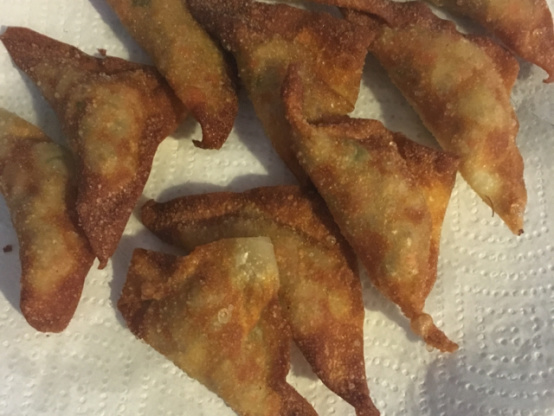 These appetizers disappear quickly! They are also great dipped in a mixture of soy sauce and Worcestershire sauce.

These are maaaarvelous! I am on WW and made them for a party, and they simply were the talk of the crowd (and 2 points each)! Wonton wrappers found in produce aisle of grocery store. I also tried steaming a few and although the fried ones are better for a party, I held the steamed ones aside for just me! Made a great lunch! Susan
Combine pork, garlic, ginger, soy sauce, and vegetables in a bowl.
Separate wonton skins.
Place a heaping teaspoon of filling in the center of the wonton.
Brush water on 2 borders of the skin, covering 1/4 inch from the edge.
Fold skin over to form a triangle, sealing edges.
Pinch the two long outside points together.
Heat oil to 450 degrees and fry 4 to 5 at a time until golden.
Drain and serve with sauce.