Bergy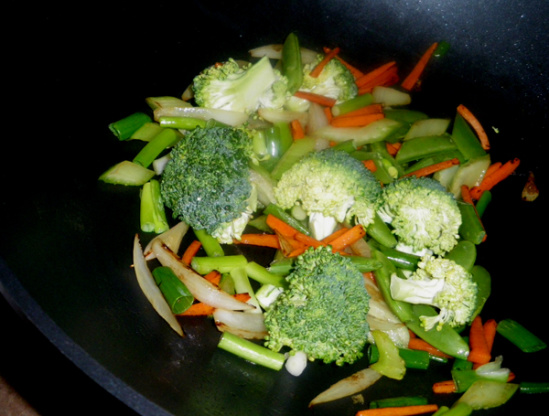 Just a very easy and tasty dish. It's a great way to get vegetables in your diet.

Top Review by Bergy
Lovely combination of veggies. I did matchstick carrots, started them and then the onions after 2 minutes I added the rest of the veggies stir fried 1 minute added only 1/4 cup of the chicken bouillon. Steamed another minute with lid on. Tasted it and thoiugh it need a little more pep so added 3 tbsp of Chipotle BBQ sauce. I like spice but for most I am sure that this recipe is perfect the way it its. The recipe was enjoyed
Combine water and bouillon granules and set aside.
Heat oil in wok or large skillet over high heat and add onions, broccoli, celery, ginger and carrots stir fry 2-3 minutes. Add snow peas and stir fry another minute or so. Add green onions and fry just another minute.
Add bouillon mixture, bring to a boil, cover and cook until vegetables are crisp-tender, approximately 2-3 minutes. You can use any vegetables you want with this. Enjoy!