Chinese Takeout Pineapple Fried Rice
lazyme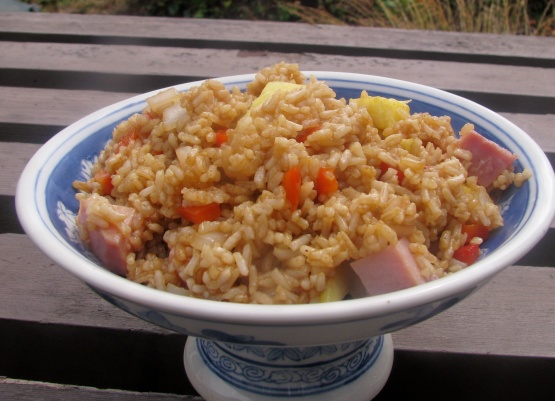 Essentially, this is American-style Chinese food, and something we are all familiar with. Great comfort food!
Break up the cold cooked rice into smaller clumps.
Heat a wok or large skillet over medium-high heat until a bead of water sizzles and evaporates on contact. Add oil and swirl to coat bottom. Add shallots and bell pepper; stir-fry until fragrant and edges of shallots begin to crisp, about 1 minute. Move shallots and bell peppers to the side, creating a well in the middle. Toss in rice; break up remaining clumps with a spatula.
Stir in oyster sauce, soy sauce and rice wine. Stir-fry until rice starts to turn golden, about 2 minutes. Add pineapple and ham. Give everything a few quick stirs so that the ham and pineapple are heated through. Transfer to a large bowl or plate and serve hot.