Since starting on my healthy eating journey, I have discovered that I really like kale. I would never have even entertained trying it before but it has become a regular on my plate. However, I am always looking for new ways of eating it rather than steaming it. I found this recipe in the February 2008 copy of BBC Good Food Magazine and it looks like a good alternative to my usual preparation.
Directions
Heat the oil in a large wok or frying pan.
Tip in the garlic and cook for a few seconds.
Throw in the kale and toss around the pan to coat in the garlicky oil.
Pour over boiling water and cook for 7 minutes more until the kale has wilted and is cooked through.
Stir in the soy and oyster sauces and heat through to serve.
Most Helpful
We enjoyed this easy recipe. With our low salt diet I forgot to add the sugar so it was quite salty for us but tasty none the less! thanks
This would be a nice way to make any kind of greens, I would imagine. I had some beautiful fresh kale right off the farm, and was looking for a new way to prepare it. This was very nice, and helped to make the bitterness of the kale more palatable. Thanks for sharing this. Made by a RedHot Renegade for ZWT6.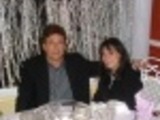 I used olive oil and a little less than called for, and really enjoyed this with the Chinese sauces. Nice change for us and DH loved it too!