CHINESE STYLE GLAZED LOIN OF PORK
manushag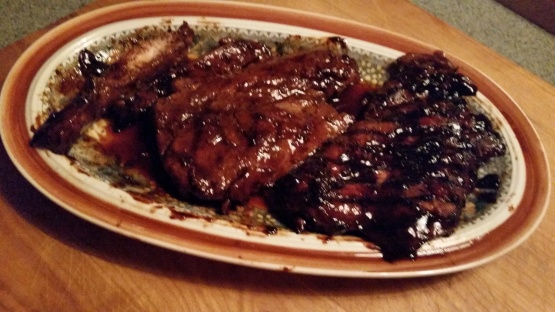 This recipe is a combination of several recipes I found in a Chinese cookbook for a marinated loin of pork. You can also use pork tenderloin. I sliced a loin of pork roast across, making 4 slabs about 1/2 inch thick. Prep time includes marinating time, which can be anywhere from 1/2 hour to 4 hours.

This looks like a lot of ingredients, but most were already in my pantry, with the exception of the peach jam and the meat. For the meat, I just bought boneless pork chops, and then let everything marinade all day. These were flavorful and very tender. My husband even liked it so much, he had seconds. Definitely a keeper. We could even add some heat to this recipe with a ghost pepper or two, and still not lose the flavor of the marinade.
Slice pork into 4 slabs and place in a large zip lock bag.
Mix the rest of the ingredients and pour half into zip bag with the meat, smoosh around and allow to marinate for 1/2 to 4 hours.
Pour the rest of the glaze into a small saucepan and cook until thickened.
Sear meat on a grill or in a hot grill pan on the stove about 5 minutes per side.
I added the liquid smoke to the glaze, because I cooked mine on the stove top in the grill pan.
Brush both sides of meat with glaze and turn, cooking until no pink shows.
Continue brushing with glaze until done.
In the stovetop grill pan, I poured all the glaze into the pan and turned the meat every couple of minutes to coat completely, and cooked until no pink showed in the meat. This only takes a couple of minutes, since the meat is thin.
Serve with fried rice and broccoli.