Chinese Style Egg Custard Tarts
Chef Sno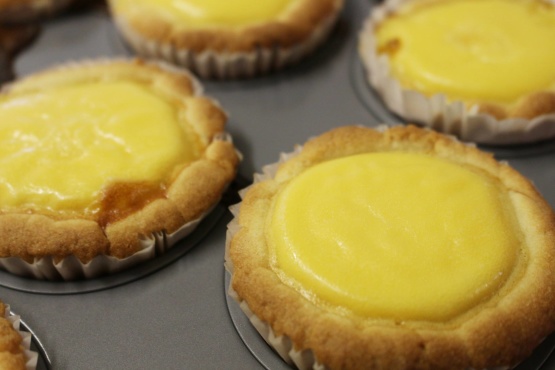 Very easy to make chinese style Egg Tart, you can put the leftover in the refrigerator for 3 days, you can also reduce the sugar used on the crust and the filling to fit your taste, what I have here is only lightly sweetened, hope you enjoy it!

I have made Chinese egg custard tarts before using a recipe from a Chinese cookbook but decided to try this recipe. Like other reviewers I ended up with much, too much filling. I also raised the temp to 375. I used the left over filling as a base custard for an improvised bread pudding. I was disappointed with the waste of ingredients and time. Especially since the tarts were for my in-laws.
Direction to make crust.
Mix sugar, butter and flour.
Then add egg and vanilla extract.
Mix well.
Texture of dough should be slightly moist, not dry (add margarine if too dry), and not oily (add flour if too oily).
Pull dough and make a ball shape to about 1.
5 inch diameter, then press into tart mould, start from the center then push up until it goes higher than the side, then use two fingers to shape the edge to a A shape.
Boil sugar and water until sugar is melted.
Cool down to room temperature.
Add eggs, vanilla extract and evaporated milk.
Filter the mixture through the strainer.
Pour into the tart crust.
Preheat oven for 10 minutes.
Bake at 230 degrees (C) for 15-20minutes until golden brown and the filling raise up a little bit.